Study unravels how our immune system deals with fungal and viral infections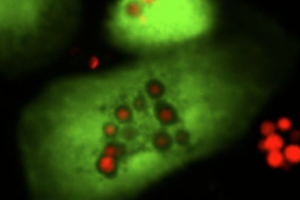 As the Mitofun project drew to a close in February 2020,  our paper shedding light on the immune system's ability to deal with co-infection, was published in PLOS Pathogens.  Professor Robin May said "This is the first time that scientists have studied our immune system's response to fungal infection in the much more realistic setting of a secondary (viral) infection.  We don't yet know whether this mechanism makes the white blood cells more or less effective in fighting off either infection.  Although expelling the fungal cell will free up the macrophage to attack the virus, it also sets free the fungal cell to continue its spread through the body."                    Read more in this University of Birmingham news article.
Unique mechanism discovery that can cause the spread of deadly infection
In 2018 we published our exciting discovery on a unique mechanism of fungus-to-fungus communication that is mediated by the exchange of extracellular vesicles. This is the first time that scientists have found a connection between extracellular vesicles and fungal virulence. You can read more about this in our Nature Communications paper or via our blogpost on the project.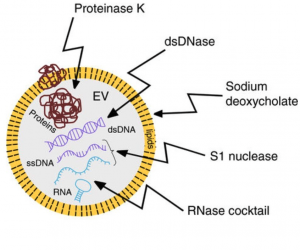 In 2017, research supported by the Mitofun project explains a new way to prevent Cryptococcosis, a deadly fungal infection, from 'hijacking' the body's immune system and spreading to the brain. Watch Mitofun's Project Lead Professor Robin May explain this new discovery below.
Mitofun staff go back to school
We took part in Colmore Junior School's World of Work Day in May 2016 and spoke to over 100 7-10 year olds about the joys of working in Microbiology.  We were very impressed with the range of questions asked about our research.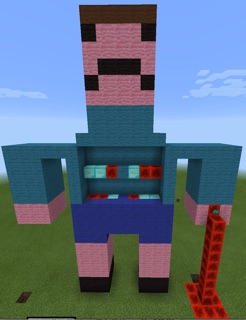 8 year old Danny Williams designed 'Dan the Man' & took part in our presentation to  explain how infection occurs in the body via the power of Minecraft.  As the blood pours out of his injured hand, the pathogenic fungus enters his bloodstream and it reaches his stomach where the redstone 'infected cells' are fought off by the pale blue 'white blood cells'.  "I really enjoyed creating Dan the Man.  All of my friends love Minecraft and I had fun working out how to get Dan the Man to have an infection.  I really  want to be a scientist when I'm older."
Press coverage of our bird study paper goes global!
There was a media frenzy when our bird immunity and cryptococcosis paper was published in February 2016.  From the BBC to India Today, newspapers, radio stations and websites all over the world reported on our findings that white blood cells found in birds can destroy fatal fungal infection.
Bird macrophages infected with the fungal pathogen Cryptococcus neoformans (green)
UK Fungus Day 2015
To celebrate UK Fungus Day, the Lab held an introduction to fungi at Birmingham's ThinkTank Science museum to raise public awareness of fungal research.  Children designed and created their own plasticine fungi, brave individuals analysed swabs from their scalps for the presence of Malassezia and gamers learnt how to use the powers of fungi (such as mind control) to survive a zombie attack through the 'Plants vs Zombies' computer game.  People were amazed that fungi can do this, such as the Cordyceps group of fungi controlling the minds of insects to promote the spread of spores within the insect population.  281 people got actively involved throughout the day.  Thanks to the ThinkTank for hosting us!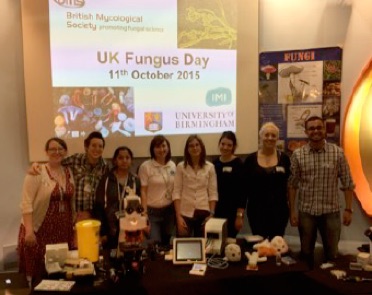 The team in action!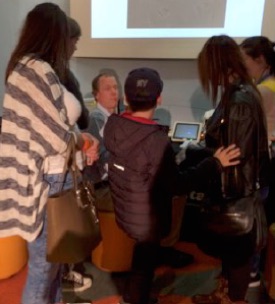 This project is funded by the European Research Council under the European Union's Framework 7 Programme (FP/2007-2013)/ERC Grant Agreement No. 614562