We have created a 3D-printed fruit-fly, the size of a small rabbit, for the world to enjoy! Finally, face to face with the fly!
We all learn more easily when can hold, touch, feel, break apart and put together again an object. Digital sculptor Joaquín Villa García (Madrid, Spain) drew the designs with anatomical precision, ready for 3D printing. Dr Parastoo Jamshidi (School of Metallurgy, University of Birmingham) is an engineer expert in 3D-printing, and 3D-printed the designs. Joaquín was responsible for processing and painting the flies. Professor Alicia Hidalgo (School of Biosciences, University of Birmingham) is an expert in Drosophila genetics and conceived and supervised the project.
We use it for our events for the public and to make videos to explain to everyone why Drosophila is such a great model organism for scientific research.
View the interactive 3D fruit fly model here!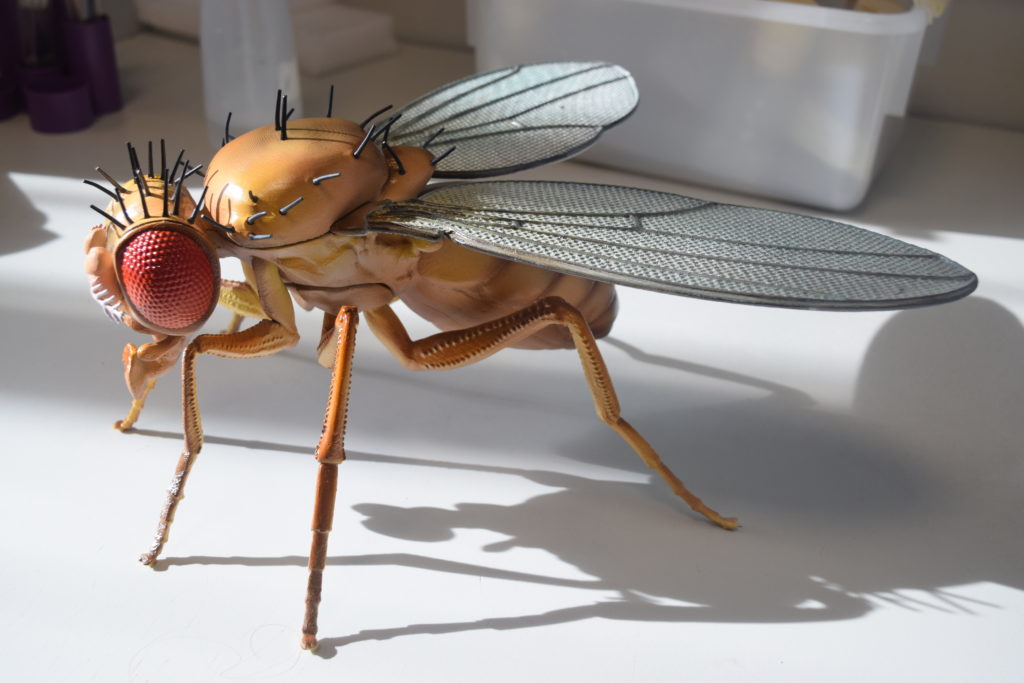 If you would like one 3D-printed fruit-fly, printed and painted, get in touch! You can order one here in the link below, but please get in touch with me first. You can also download the .STL files to 3D-print the fly and organs yourself:
https://licensing.micragateway.org/product/the-3d-printed-fruit-fly—physical-copies-and-stl-files-for-printing
If you would like some fruit-fly cards and poster, visit our site here:
https://licensing.micragateway.org/product/the-3d-printed-fruit-fly—posters-and-card-images
Funded by:
3D-printed fruit-fly: Public Engagement Fund (PEF) University of Birmingham and BBSRC Impact Accelerator Award (IAA)
Videos and website development: BSDB summer Scholarship to Yuqian Ye (undergraduate student in Hidalgo Lab)