We love science and think that everyone else should love it, at least a little bit, too! So we spend quite a lot of our time talking about it with non-scientists. We also occasionally venture onto the silver screen and get overly excited about sharing new discoveries with the rest of the world.
If you would like one of us to visit your school, college or club, or if you have a media-related enquiry, please contact us and we'll see what we can do.
Our recent paper on how extracellular vesicles mediate virulence in the fungal pathogen Cryptococcus gattii hit the headlines...
Watch here how our research has led to an exciting new discovery of how to stop a deadly fungus from 'hijacking' the body's immune system and spreading to the brain.
.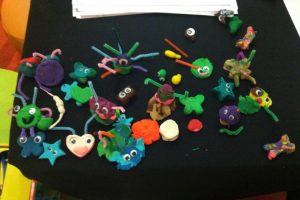 We also like doing lots of messy science with schoolchildren (and grown-ups pretending to be schoolchidren!).
Our five minutes (well, three, actually) of fame on the BBC...
"See behind the scenes at the Institute for Microbiology and Infection, a centre that is battling infection and disease in innovative ways."
Couldn't have put it better ourselves...