With Bethan Roberts and Francesca MacKenney
Monday Conversation 25 April 2022, 5-6pm online.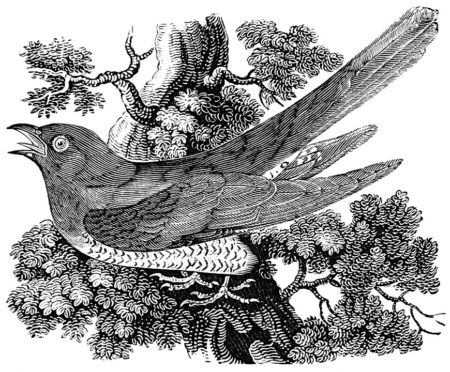 Bethan Roberts is the author of Charlotte Smith and the Sonnet (Liverpool University Press, 2019) and her new book Nightingale has recently been published in Reaktion's 'animal' series.
Francesca MacKenney is the author of Birdsong, Speech, and Poetry: The Art of Composition in the Long Nineteenth Century (2022). The book explores what poetry can do and say in comparison with birdsong and music.
'Sweet harbinger(s) of spring': Placing the cuckoo and nightingale in poetry – Bethan Roberts
"In prose nature writing about birds, specific place is nearly always specified in geographical terms, while bird poems almost wholly leave this out. Poets do however often specify place in equivalent notes and journals. [Within the poems], geographical location is taken out as poets distil the essence of spring hearing, which acts as a kind of poetic double access that transcends geography".
Bethan's talk, "an obsessive pursuit of place in poems about cuckoos and nightingales", begins with an attention to the migratory patterns and the local and national habitats of both birds, looking to underpin the poetic topographies of birdsong and their far-reaching literary connotations. Bethan considers the traditional poetic rivals the nightingale and cuckoo, and thinks about the significance of place and its different meanings in poems on these spring migrants, from matters of habitat and distribution to poetic feeling and beloved "pleasant places'".
Listen to Bethan's talk below:
Birdsong in the Poetry of John Clare – Francesca Mackenney
"Whenever we attempt to translate the sounds of birds into our own words and phrases we are always in danger of descending into anthropomorphism and absurdity; of making birds sound ludicrously like ourselves".
Francesca's research is influenced by interdisciplinary approaches and draws together and compares the different ways in which scientists, musicians, and poets have tried to understand the mystery of birdsong. Her talk reflects on the difficulty of interpreting, and translating bird song through a range of historical mediums, and dwells on the development of the sonogram and the poetry of John Clare alike to consider how our representations match up to the complexity of birdsong. "Birdsong tests the limits of language", Francesca argues, questioning how poetry can respond to such an 'irrevocable otherness" as the call of the nightingale.