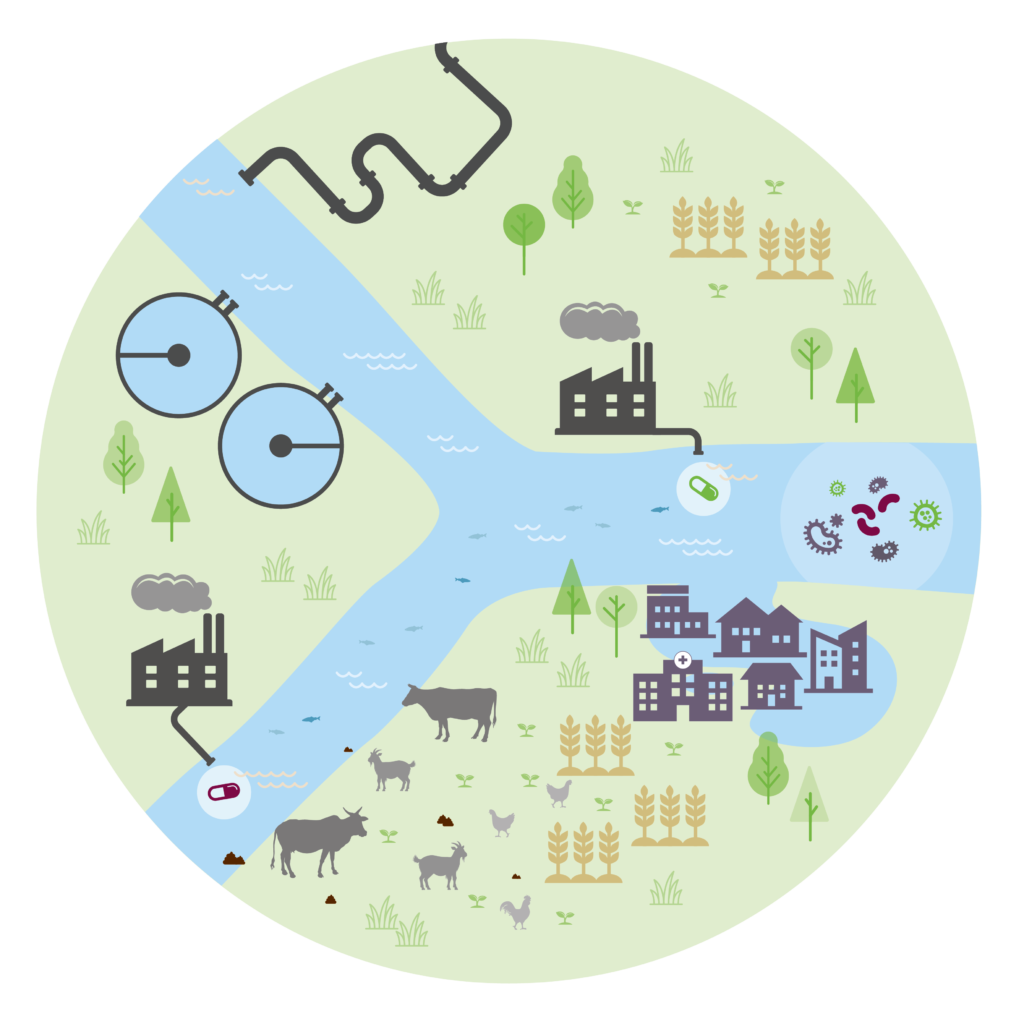 Summary of the motivation and aims of our research project
Various antibiotics are released into rivers from manufacturing sites. However, the antibiotics will be diluted while being transported downstream, and some will be quickly degraded, and resistant bacteria may not survive.
We will answer questions such as:
a) How long is resistance selected and how long does it survive?
b) Is resistance transmitted to other bacteria before it is lost?
c) How far are resistant bacteria transported?
d) What is the exposure of humans or livestock?
In order to ask these questions, we will pursue a unique combined experimental and mathematical modelling programme including the following work packages:
(1) Measure antibiotics, water quality, water levels and flow rates, water sediment exchange, antibiotic resistance genes and antibiotic-resistant bacteria.
(2) Quantify transmission of resistance genes in bench-scale reactors.
(3)        Study selection in river samples in mesocosms.
(4) Study the risk of infection by resistant bacteria.
(5) Build and test a mathematical model of antimicrobial resistance.
(6) Build and test a mathematical model of water flow for the river network.
(7) Combine both models so we can track how resistance is spread long the chemicals and bacteria have been in the river water, sediments and floodplains and how far they spread to downstream populations and ecosystems.
(8) The combined model can evaluate the benefits of various interventions.
(9) Analyse the human health risks based on the predictions of the combined model, contributing to the development of international environmental standards.
We will study two river systems. The Musi (Hyderabad) is more polluted with antibiotics than the Adyar (Chennai). Both are polluted by sewage. Their pollution flows to people via irrigation, drinking water production and spiritual cleansing.
Flow of research
Meet our team of experts – see page "Our Team" for more
As a team we cover a wide range of disciplines such as microbiology, toxicology, environmental engineering, hydrology, bioinformatics, mathematical modelling and risk analysis. We are brought together by our common goal to understand and mitigate the selection and transmission of antimicrobial resistance in the environment.
We are grateful to our funders in the UK and in India