On 17
th
-18
th
 June 2019, Prof. Martin Trybus, EUTIP Coordinator
 and EUTIP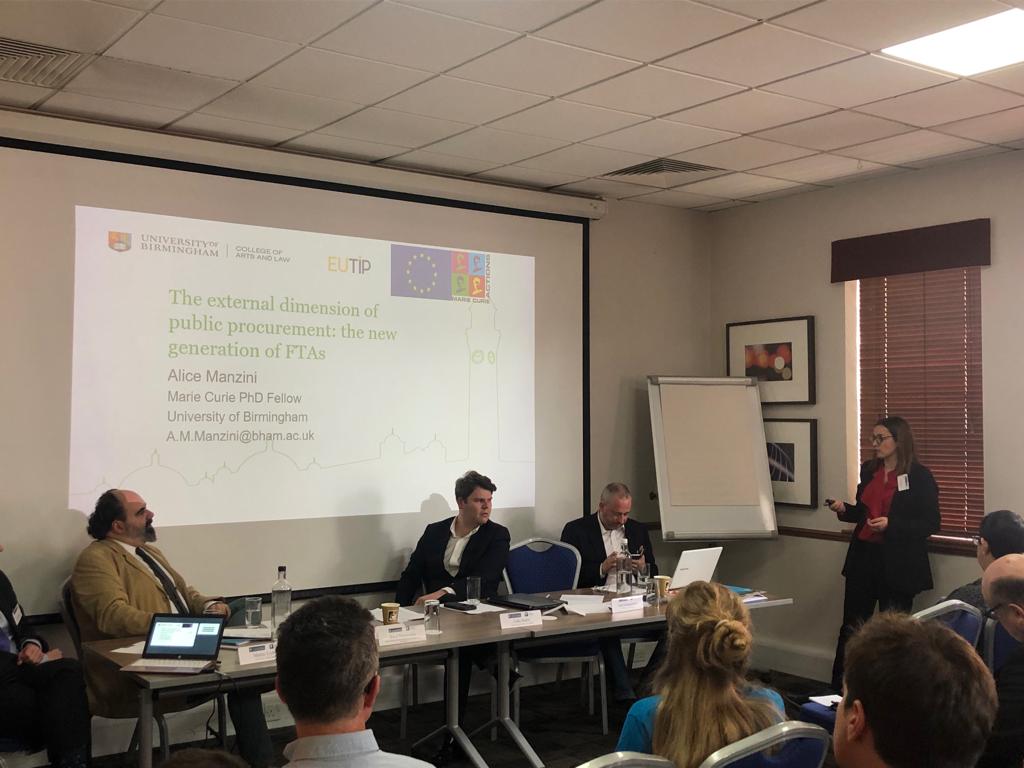 ESR Alice Manzini participated in the Public Procurement: Global Revolution IX Conference at the University of Nottingham. This conference, organised by the 
Public
 Procurement Research Group at the University of Nottingham led by Professors Sue Arrowsmith and Peter Trepte, saw the participation of more than 300 participants from many academic and international institutions, including the World Bank, WTO, OECD, United Nations (UNCITRAL), and the European Commission.
Prof. Martin Trybus organised and chaired a panel on "Public Procurement and EU External Trade", which investigated the role of procurement in international trade, how EU institutions utilise procurement in EU External Action, the new generation of EU Free Trade Agreements (FTAs) and Transatlantic defence procurement.  This panel was part of a series of workshops analysing public procurement within the international arena. These workshops focused on the principle of reciprocity in the Government Procurement Agreem
ent (GPA), GPA accession issues, harmonising reforms and regional procurement issues. In the panel on 
"Public Procurement and EU External Trade", Dr. Aris Georgopoulo
s presented on the internationalisation
of public procurement regulation, analysing the diffusion of international norms in the field of procurement. Dr.  Baudouin Heuninckx examined the new Regulation 2018/1046 establishing specific rules applicable to procurement performed within the scope of the EU external actions. Dr. Luke Butler presented on the impact of the "poison pill" EU and US defence funds on the potential for transatlantic defence and asked: does anyone actually has any ideas on how to improve trade reciprocity through regulation? Alice Manzini presented on the role of public procurement in EU FTAs, demonstrating how the shift towards bilateral trade agreements has strengthened public procurement policy in EU external relations. In her analysis, Alice first examined procurement provisions in EU trade agreements before the adoption of the Global Europe Strategy in 2006 and then compared them with the new generation of FTAs. She showed how these FTAs, despite being still anchored to achieve market access and open foreign procurement market, already include some regulatory cooperation mechanisms.