10th-11th December 2018, Brussels, Belgium
EUTIP organized an interdisciplinary conference on Global Politics and EU Free Trade Policy on 10th and 11th December 2018 in Brussels. Participants from all over Europe took part in the Conference as speakers or attendees.
The conference was opened by a message from Prof. Wolfgang Weiss – the organiser of the Conference and by a keynote on "The relationship of EU-FTA to multilateral trade rules in a rapidly polarising and isolationist world" given by Prof. Mary Footer, lead researcher and supervisor within EUTIP ITN.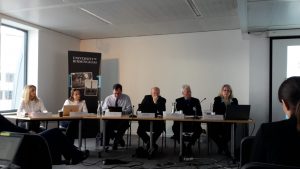 The Conference was structured in three themes and had four panels. The first panel was related to the assessment of EU trade policy in view of the multilateral trade framework of the WTO whose rules need to be observed in tailoring EU Free Trade Agreements (FTAs). It was chaired by Prof. Wolfgang Weiss and opened by a keynote speech of Prof. Marco Bronckers on 'The gap filling functions of FTAs: potential and limitations'. Two EUTIP ESRs also presented their papers during this panel.
Iulianna's presentation was titled "TBT in EU "New Generation" FTAs –An Example of Open or Conflicting Regionalism?" She analysed WTO-plus TBT provisions in several EU latest FTAs in order to understand how the EU approach converges towards the multilateral system and more specifically, whether it represent an example of open or rather conflicting regionalism. By comparing the FTAs to the GATT and the TBT Agreement, she came to the conclusion that overall the EU pursues the so-called "open regionalism", however there might be as well inconsistencies when it comes to specific sectors in several analyzed FTAs.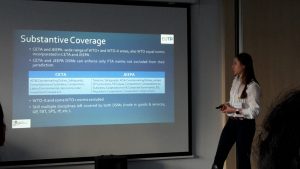 Cornelia presented a paper entitled: 'CETA and JEEPA DSMs Competing with the WTO DSM: Procedural Considerations'. She analyzed whether in the context of the challenges faced by the WTO Appellate Body, the EU FTAs and the WTO dispute settlement mechanisms could compete in terms of procedural aspects. She focused her paper on the Dispute Settlement chapters provided by CETA and EU-Japan EPA and compared them to the WTO DSM based on the following criteria: coverage, timeframes, composition, transparency, presence of appellate stage, presence of administrative and legal support, and compliance process.
The second panel and fourth panel were structured around the second theme dedicated to the EU Trade Policy in Global Policy Context. They were chaired by Prof. Mary Footer and Jacques Bourgeois. Prof. Sven Biscop, lead researcher and supervisor within EUTIP gave the keynote speech for this theme.
Isabella  gave a presentation on the interplay between Regulatory Cooperation and Data Protection Rights, questioning whether the deepening of trade is also reflected in a deepening of fundamental rights. After providing an overview of her research – which investigates to what extent fundamental rights reach different dimensions and levels of trade law-making beyond the state – she turned to analysis of the regulatory cooperation chapters in TTIP, CETA and EUJEPA; to then analyse the implications of the former on data protection rights in cross-border data flows. 
The third panel was devoted to the topic: 'EU Trade Defence Instruments in a Protectionist Environment – Fit for Purpose?' This panel was chaired by Till Müller-Ibold featuring speeches given by Prof. Frank Hoffmeister and Edwin Vermulst.