Panel 3: 'Everything But the Thesis' – everything else you should be doing whilst working   on your thesis.
Ken Griffin (The Egypt Centre, Swansea) is Curator of the Egypt Centre in Swansea, and was previously a lecturer at Swansea University. The Egypt Centre is an invaluable resource for students in Swansea and further afield with a plethora of volunteering opportunities including gallery experience, public engagement, documentation, and object research. The museum also works closely with lecturers to ensure students get hands on experience with ancient objects. In addition, the Egypt Centre hosts the weekly SUPP sessions for Swansea University students providing the chance to learn cataloguing skills for the museum's collection of pottery.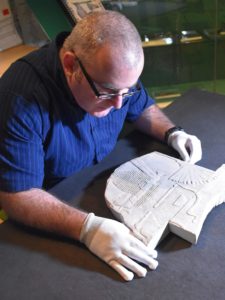 Rachael McLaughlin (Liverpool University) (née Cornwell) recently graduated with a PhD in Egyptology from the University of Liverpool, where she now works as an EDI Data Analyst for a Doctoral Training Partnership. She will offer insights into skills and experience which helped her land her first post-PhD job, and discuss what you can do outside of the PhD thesis to kickstart both academic and non-academic careers.
Leire Olabarria (University of Birmingham) is a Lecturer in Egyptology at the University of Birmingham. In her role as PGR supervisor and ECR mentor, she is a firm believer in the importance of CV diversification not only to enhance employability but also to make the PhD journey more enjoyable. In this panel, she will share insights  into effective planning strategies to make the most of any career development opportunities that come your way.