Dr Alexander (Sandy) Knowles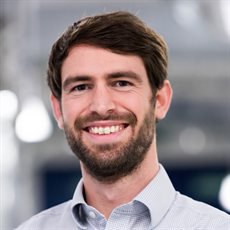 Sandy Knowles is a Lecturer in Nuclear Materials and EUROfusion Researcher Grant holder in the School of Metallurgy & Materials.
He is an experimental metallurgist focused on the design & development of new alloys for extreme environments, including nuclear fusion, fission and aerospace gas turbines. He is a forerunner in the development of new "bcc superalloys". Unlike current γ-γ' nickel superalloys, β-β' bcc superalloys make use of a bcc tungsten, titanium or steel matrix, with their higher melting points, for increased operating temperatures. This work, as well as his work on commercial alloys and 'high entropy alloys' (HEAs), is supported by Culham Centre for Fusion Energy (CCFE), TIMET and Roll-Royce plc.